New Angry Birds™ Coin with Interactive Mobile Game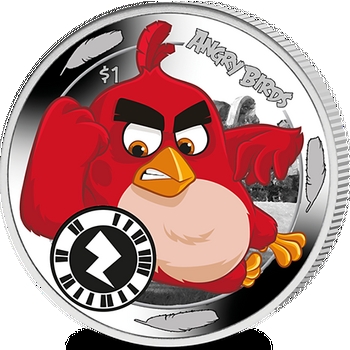 An absolute must-have for those who love innovative or popular culture coins in their collection!
• A first in coin collecting
• Interactive coin
• Featuring the app that took mobile gaming by storm
• Special presentation pack
• Low mintage

Another First from Award Winning Pobjoy Mint
In May 2018, Pobjoy Mint took the coin collecting world by storm when it issued an innovative new coin that allows you to enter the world of Angry Birds™.
The Pobjoy Mint coin was made in conjunction with Rovio Entertainment Corporation. It features the famous angry bird Red and a special Zapper code that starts your journey into Bird World and interaction with the Angry Birds.
Angry Birds Coin
Red, with his prominent eyebrows and a tuft of feathers, is colour printed, making him standout in glorious colour against the background of Bird Island. Your new coin will be presented in a bespoke colour pack. A special Zapper code is included. Scan the code on your mobile phone to be launched into an interactive world that creates images and lets you take selfies with the enchanting characters.
What is Angry Birds?

Angry Birds hatched as a casual mobile game that has blossomed into one of the most beloved entertainment brands in the world, inspiring over a dozen games, billions of consumer products, several animated series and a hit blockbuster movie. In the centre of the story is the epic battle between the flightless birds and the green pigs. Why do they fight? Because the pigs keep orchestrating new outlandish schemes for stealing the birds' eggs to bring back to their greedy King. But these eggs contain the birds' precious Hatchlings which they must protect at all cost. Using whatever means necessary, the birds, led by the reclusive Red, must find a way to foil the cleverest of piggy plans.
Don't delay - this is a limited edition
Pobjoy Mint's coins are known to sell out fast, and we expect this 2018 coin to be a huge hit with collectors around the world. And at the bargain price of £19.95, others won't hesitate to snap it up. So secure your limited edition coin now.