The Royal Platinum Wedding Anniversary
The Enchanting Story Behind a Charming Coin Collection
The Queen and Prince Philip celebrate their platinum wedding anniversary in November 2017.
To commemorate this remarkable moment in their lives, BNT Coins has issued an exquisite silver coin bar collection.
Each coin bar tells a story from the long life they've spent together, leading to their 70th wedding anniversary. Expert craftsmanship has captured their lives in fine detail on .999 silver to a Proof-like quality finish.
Introductory Price - For a limited time, the silver coin bar collection is at a special price. Don't miss out!


Read on to learn more about this moments that inspired this exclusive silver collection.
A Royal Engagement
On 10 July 1947, Princess Elizabeth's engagement to Lieutenant Philip Mountbatten was announced. The princess wore a stunning square cut diamond and platinum engagement ring as she was pictured arm-in-arm with Philip Mountbatten at Buckingham Palace. The ring had been expertly crafted using stones from one of Philip's mother's tiaras.
She was just 21 and he 26. It's claimed she fell in love at first sight as teenager in 1939 when the dashing, blond 18-year-old entertained her by jumping over tennis nets. It's also been suggested they became engaged in secret in 1946 and the announcement was delayed until the princess turned 21 in 1947.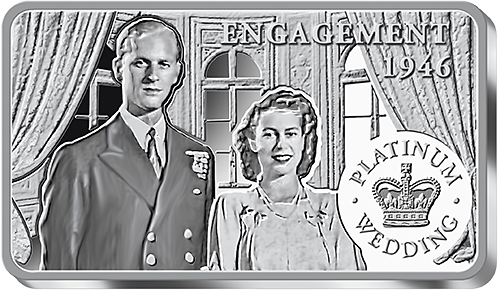 "Philip is an angel...We behave as though we had belonged to each other for years," the Queen
The commemorative coin bar marks the moment the happy couple announched their engagement to the world, and the beginning of their extraordinary life together. The image is a skillfully rendered miniature of the iconic photo of Princess Elizabeth and her finance.

The Coronation
Within 5 years of their marriage, the princess was crowned Queen Elizabeth II. Beside her was her husband in his full Naval uniform. It was a groundbreaking event: the first televised coronation was watched by 27 million people in the UK alone. In her Coronation speech, with the eyes of the world on her, she included her husband in the event.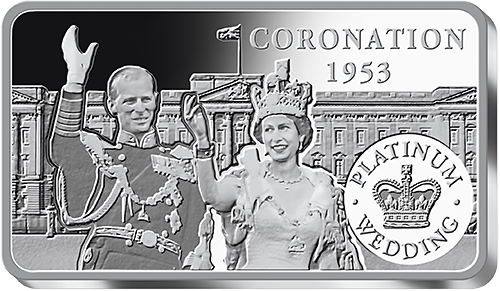 "Throughout all my life and with all my heart I shall strive to be worthy of your trust. In this resolve I have my husband to support me," the Queen
In fine detail, are the new Queen and her husband waving to the world. The image was inspired by the famous photo of the newly-crown Queen Elizabeth waving from the balcony of Buckingham Palace . Behind them is palace, perhaps the most famous of Royal resisdences.


A Famous Family
Away from the photographers, the Windsors are a normal family: Prince George calls the Queen Gan-Gan and she leave thoughtful gifts for her family when they stay. The Queen and Prince Philip have been a stable figurehead for their children and grandchildren, leading them through and protecting them from the highs and lows of Royal life.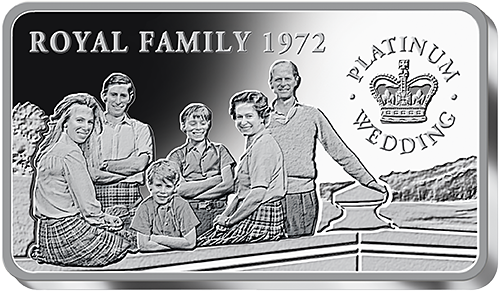 "If I am asked what I think about family life after 25 years of marriage, I can answer with equal simplicity and conviction that I am for it," the Queen
The photo that inspired the design of this silver coin bar shows a moment that could be any British family posing for the camera. Instead, it's the Queen and Prince Philip with their 5 children in the ground of Balmoral where they spent rare, very special moments together as a family. Because of her dedication to her public role, the Queen depended heavily on her husband to make major family decisions.


Balmoral Castle
The Scottish holiday home in Aberdeenshire has been one of the Royal Family's residences since 1852. It's a very special place for the Queen and Prince Philip and it's suggested here they became secretly engaged when she was just 20 years old. The couple regularly spend 2 months of the year at Balmoral with members of their family joining them for summer visits. It's one place where they can relax and enjoy life in private; where Elizabeth does the washing up and Philip barbeques sausages.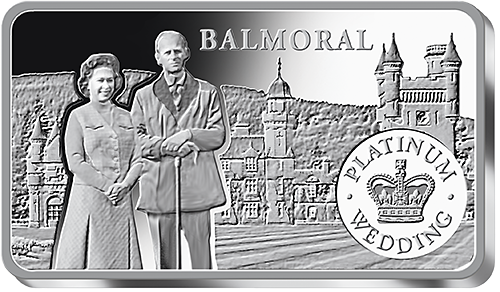 "I think Granny is most happy there," Princess Eugenie
In front of the imposing castle they feel so at home in, stands the Queen and Prince Philip. Again, our skilled artists drew inspiration from a famous photo of the Royal couple.


Broadlands
On 20 November 1947, Princess Elizabeth married Philip Mountbatten in Westminster Abbey. It was a glorious event that captivated the world. The bride looked breathtaking, dressed in an ivory silk gown decorated with 10,000 seed pearls with an intricate 13 feet train. The newly-wed couple spent their honeymoon at Broadlands, a Grade II listed building nestled in the Hampshire countryside.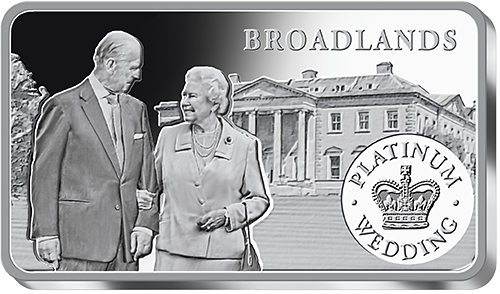 "He has, quite simply, been my strength and stay all these years," the Queen
They revisited the beautiful spot to celebrate their 60th wedding anniversary. A moment together is captured as they had their photo taken to mark their diamond wedding anniversary. Behind them is the country house where their married life began.


70 Years of Love & Commitment
A platinum wedding anniversary is remarkable for any couple, for one that has stood the test of time in a very public eye is exceptional. The world's longest reigning monarch has had her partner with her every step of the way. It truly is one of the greatest understated romances in British history.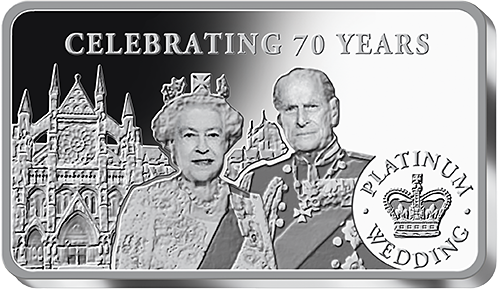 "The Duke of Edinburgh has made an invaluable contribution to my life," the Queen
The photo that has been used around the world to mark the Royal 65th wedding annivesary has been used to pay tribute to an astonishing milestone. Together they stand dressed in their finery in front of Westminster Abbey where they were married so many years ago.