The Unique Mark of the 2018 Gold Sovereign
For 2018 only, the Sovereign coin celebrates a very important anniversary
The Sovereign is The Royal Mint's flagship coin. It's famous around the world as a masterpiece of quality and design.
All coins tell a story and the 2018 Sovereign is no different. 2018 marks another historic event with British Royalty: the Queen celebrates the 65th anniversary of her coronation. This makes her the world's longest reigning monarch - a remarkable event few of us will witness again.

To celebrate this momentous occasion, The Royal Mint has incorporated a unique mint mark on the Sovereign for 2018 only.

A Very Special Edition


The Sovereign Proof Collection includes 3 editions and 4 exclusive sets. Each coin is struck in 22 carat gold, finished to Proof standard, and features a mint mark depicting a royal crown with '65' entwined in the design, as well as the famous Pistrucci design. The obverse features the Queen's effigy, designed by famed Royal Mint designer Jody Clark. The celebratory mint mark that features on all coins in The Sovereign 2018 Collection was created by Natasha Preece and Joseph Melia, who are both members of The Royal Mint's coin design team.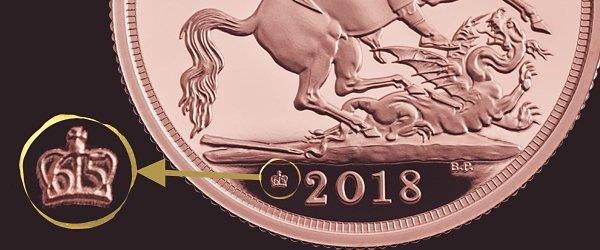 The 65 Crown Privy Mark will only feature on the 2018 Sovereigns

The collection, which sold out in the last 2 years, is available in strictly limited numbers. We strongly advise you not to wait!


Sovereign Mintage


| | | | | |
| --- | --- | --- | --- | --- |
| Coin | Mintage* | Limited Edition Presentation † | Alloy | Minimum Gross Weight |
| | 4,650 | 2,500 | 916.7 Gold | 1.997g |
| | 5,100 | 2,500 | 916.7 Gold | 3.99g |
| | 13,350 | 10,500 | 916.7 Gold | 7.98g |
| Double Sovereign‡ | 1,600 | N/A | 916.7 Gold | 15.976g |
| | 850 | N/A | 916.7 Gold | 39.94g |
* The Maximum Coin Mintage (MCM) is the maximum number of coins that may be issued by The Royal Mint
† The Limited Edition Presentation (LEP) is the maximum number of coins, presented in a specific style, that may be issued
‡ The Double Sovereign is included in the 3-Coin Sovereign Set and 5-Coin Sovereign Set